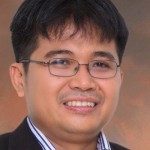 E-mail: awang.wardana@ugm.ac.id
Address: Department of Nuclear Engineering and Engineering Physics, Faculty of Engineering, Universitas Gajah Mada (UGM), Jl. Grafika 2, Yogyakarta, 55281-Indonesia
Education: Doctorate (Dr.-Ing.),  Chair of Embedded Systems, Faculty of Electrical Engineering/Computer Science, Universität Kassel (2009)
Research Interest: Software Development for Process Automation
---
Recent Publications:
Dewa, G.R.R.; Wardana A. N. I.;  Hawibowo, S.., " Linear Oscillation Diagnosis of Process Variable in Control Loop Based on Variational Mode Decomposition",  2018 Proceeding of International Conference on Science and Technology, 2018.
Wardana A. N. I.; Kurniady, R.; Pambudi, G., Purnama, J., Suryopratomo, K., "A Toolbox for Safety Instrumented System Evaluation based on Improved Continuous Markov Chain",  AIP Conference Proceedings, Vol. 1867, No. 1, 2017, pp.020019 .
Daniarta, S.; Wardana A. N. I.;  Rosita, W.; "Performance Evaluation of Compressor Anti-Surge Control Based on Model Predictive in Ammonia Plant",  2016 Proceeding of International Seminar on Application for Technology of Information and Communication, 2016, pp. 75-79.
Hutabarat, Y;  Wardana, A. N. I; Rosita, W.; "Detection and Quantification of Valve Stiction Based on Normality Test and Hammerstein System Identification", AIP Conference Proceedings , Vol.

1755

, No. 1, 2016, pp. 170002.